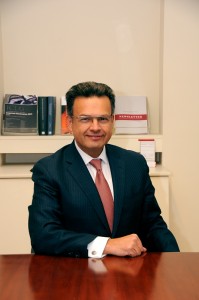 Since the turn of the century, the Republic of Turkey's focus has been on its      upcoming  centennial.  While the country is aspiring to achieve sustainable growth in    economic  and social terms in cooperation with the countries in its hinterland, one  important  challenge it is facing is to have the rule of law prevail in all walks of life.    Achieving the  "rule of law state" status in an emerging country like Turkey, does not  only entail  enactment of modern laws or the introduction of  a civilian constitution,  but equally  requires advancing the quality of legal education, not only for those  studying law in  law schools but also for legal practitioners and all other stakeholders    in the legal arena.
  Our mission at ILI-Istanbul is to ensure that all participants of legislative, prescriptive   and adjudicative processes and legal practitioners have access to, and benefit from,    advanced legal trainings in order to keep them abreast of legal developments and the    best legal practices in modern democracies.  We aspire to have the most specialized    legal experts and experts in other disciplines offer trainings to lawyers, civil servants,  business executives and to all other participants involved with legal processes from Turkey and/or the neighboring countries around Turkey or elsewhere in the region.  We hope and trust that we will be able to coordinate our efforts in this regard with various international and local institutions, including the International Law Institute (www.ili.org) based in Washington, D.C. in the United States.
We invite all the stakeholders who wish to have a better "rule of law state" contribute to our efforts and benefit from the expertise we hope to be able to offer.
Ümit Hergüner
Founding President
ILI-İstanbul